1: MoonTwister- an attack using his weapon Ban. He rotates the quad scythe above his head and creates a spiral of fire and electricity which he can use to increase his strength and speed as well as charge his weapon.
2: Twilight Pulse- Where Maaru takes negative feelings such as hate and malice and and create 3 pulse waves of dark energy causing massive damage to any it touches. He can also use dark energy beams and blasts. He could also use telepathy.
3: Power of the Seal: The tribal marks on Maaru's back glow and he begins his werepyre(lycan/vampire) transformation which his strength increases 10 fold and his dark power makes his body almost completely impervious to pain but this transformation only can only be used if the seal on his back in intact.
Werepyre normal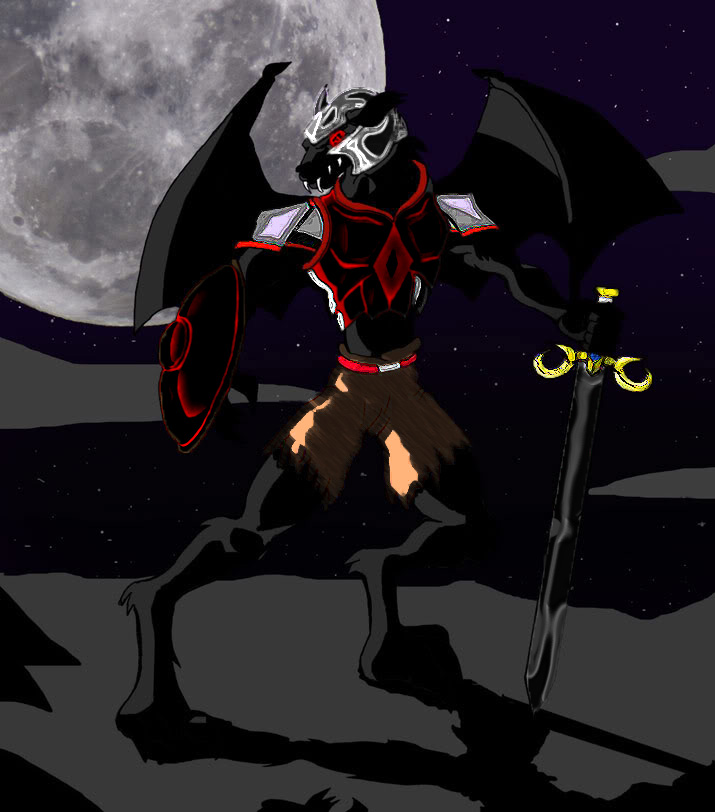 Full power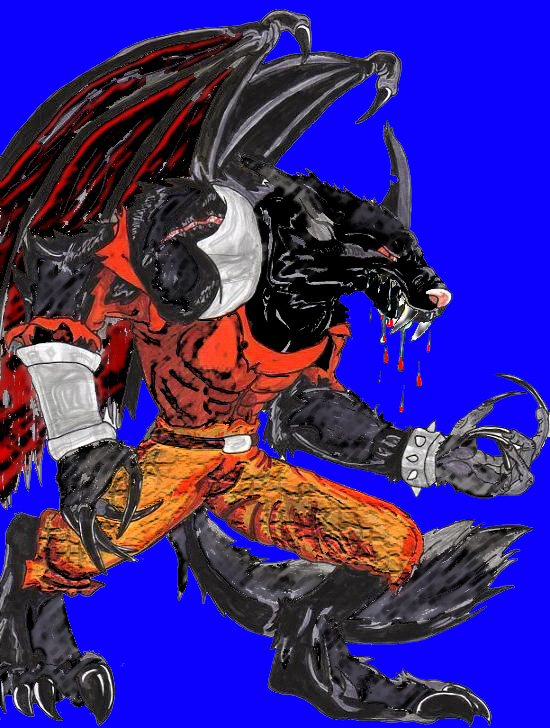 4: Virus Carrier: Maaru spawns little bats that can spread his blood through bites which is deadly to others and can cause dizzyness and massive bloodlost. The bats also have a deadly effect being able to trigger a fairly big explosion upon being destroyed.
5: Wolf summon: Maaru releases a loud howl. causing his eyes to turn compleltely black. He can then regurgatate a large number of demonic wolves who can also spread his disease though bite.
6: The gift/curse: Who ever Maaru deems worthy he can give them a bite which contains enhanced amounts of his disease which wouldnt kill them but make them part wolf and vamp. however the dragon blood would not be transferred over reducing the amount of power that are given. As a downside Maaru now has full control over the person and can take their powers away, paralyze them, or make them self destruct.
7: Can only be used when Maaru is badly wounded in his werepyre transformation. he can use his super drakopyre form where his speed strength and energy has increased drastically and can use blood to upgrade to hyper mode which he is nearly unstoppable but hasnt completely masted it yet. This form is what has kept Maaru in top shape and gives him youth over the years.
super
hyper
8: Dark wave- perhaps the most dangerous of Maaru's attacks because of the sheer amount of dark energy he uses to perform it. He focuses all of his power into his arms and legs making his melee attacks deadly but the stress from focusing large amount of energy all into certain areas makes it hard to mantain.
9: Underworld Clones: Maaru can create clones of himself using spirits from the underworld. The clones have the same moves and power as Maaru did when he created them. They can only be defeated by either using holy weapons, Maaru calls them back to hell, or Maaru's death.
10: Obidience: Because of his power and blood he has great influence over wolf, vampire, or dragon creatures and can command them to do his bidding.
11: Hells pass: being an unholy creature he has been granted given a pass to enter hell at any time depending on how many people he has killed with his scythe. This lets him teleports where ever he wants
12: Blood weapon- Maaru can turn body parts into weapons by absorbing weapons into his being. A special side effect of this technique is that he can regenerate almost instantly even if his vitals are damaged or destroyed but requires a large sum of energy. Can dematerialize and use blood to teleport and travel.
13: Dark Force- A devastating attack that when fully charged can erase matter leaving an opponent unable to heal or regenerate any wounds suffered from the attack.
14: Mind Crush- can use the blood of a weaker opponent and make the blood around the brain and create pressure around it sometimes knocking them out, paralysis,and sometimes death. This attack is unavoidable due to the fact its happening inside the victims body without thier knowlegde. Can use after four turns have passed/
15: Polymerzation- A technique Maaru has keep hidden in case of an extreme emergency. He and another being fuse and become one single being making their combined form more powerful than than anyother being in existence. But this form has another effect...once fused the two are stuck in that form.
Kekkei Genkai: The dark gift- The dark gift allows grants the user the ability to see energy levels and internal and vital organs as well as hear heart beats. The special ability and maybe the strongest attack he has is that for two posts he traps you in the void,(a section in hell) for two posts where your powers are sealed within you and cannot be used. Your body and soul are then tortured by the demons within an inch of your life. takes three turns to charge.